Insiders Guide to Chihuly Garden and Glass
On our bucket list for several years, Chihuly Garden and Glass did not disappoint when we finally carved out some time check it out. We were fascinated and lingered there longer than we had intended. Visiting the gallery as well as the garden both during daylight and evening hours is a must. The contrast between the two especially outdoors and in the glasshouse was striking and beautiful. We both took way too many photos as a way to remember the visit. And although we're sharing some here, seeing it all with your own eyes is important.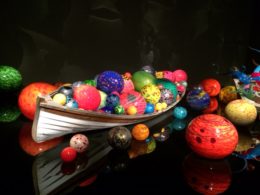 On the day we went, we found such a variety of work displayed. In one gallery, boats filled with glass orbs in a myriad of colors appeared to float on a shiny dark sea, the highly polished floor. In another room huge "chandeliers" hanging from high ceilings offered the only light in a darkened room. And a large glass forest that dwarfed onlookers filled yet another space.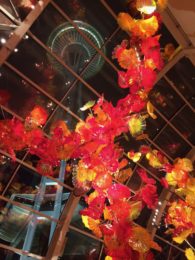 Then there was the arched glasshouse. There a huge sculpture made of what seemed to be gleaming undersea fauna or flora hung from the ceiling. Their red, orange, and amber appearance changed by night and day. This led us out into the gardens of glass plantings, some small and hugging the ground and some stretching high and straight or winding round toward the sky.
The aptly named Collections Café is more true to its moniker than one could ever imagine. Think of Chihuly as an avid collector of all things and you will still be surprised by what you find inside this café adorning walls, ceilings and tabletops. We stopped in there for a bite and to feast our eyes on the surroundings. We also made our way through the Bookstore that's a gift shop looking not buying anything- although it was tempting.
Depending on when you plan your visit, you may be able to take advantage of some special events including the Community Hot Shop where you can view glassblowers as they work. It runs through April 2017. And then there is the Summer Nights music series. If you visit in winter during the holiday season the Bookstore offers hand-blown ornaments crafted by a local artist.
Now are you convinced that the next time you visit Seattle you should head on down to the Seattle Center to visit this museum? See http://www.chihulygardenandglass.com/.