What can you do around Seattle in the winter?
Take a walk around one of the local parks: Gasworks, Discovery, Lincoln or the Sculpture Park. There's indoor ice-skating at the Seattle Center and there's always an amazing view from the Space Needle.
Outside of the city there are lots of opportunities for winter sports. Try a snowshoe tour led by a ranger at Paradise on majestic Mt. Rainier or at the ski area at Crystal Mountain. Spend a day or two cross-country or downhill skiing or snowboarding. It takes about 3 hours to drive to Mt. Rainier and an hour and 50 minutes to Crystal Mountain Resort.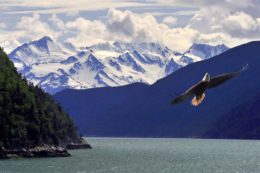 View eagles along the Skagit River or go to one the state parks in the Puget Sound. Read more on these at Fodor's Travel.
How about taking in dog sledding, sleigh rides or the Bavarian Ice Festival in January at Leavenworth, just hours away? Other places we like to visit are nearby Tacoma, WA or up north in Victoria, B.C. Find out more at Visit Seattle.